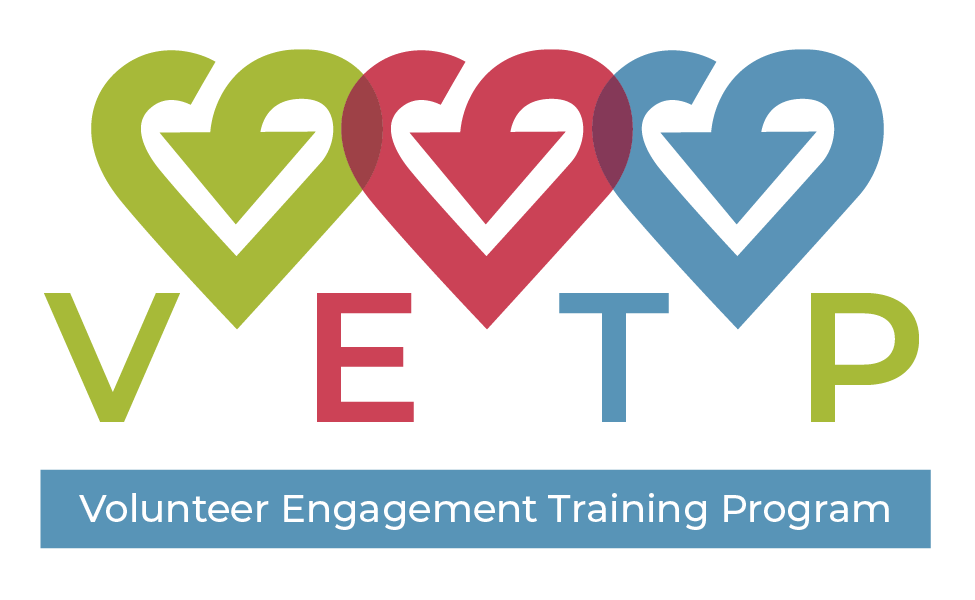 Wednesdays September 27th through October 18th, 2023 8:30-10:30am, and October 25th 8:30-9:30am in-person at the Banana Factory
The Volunteer Engagement Training Program (VETP) is for anyone at your organization who engages volunteers. Each of the 2-hour sessions will include:
information and tools related to an element of volunteer program management - see topics below

a working component to incorporate the learnings and tools into your program

dedicated time for peer-to-peer engagement that will allow you to troubleshoot a program issue and receive support, resources, and suggestions from your professional peers
2023 Schedule
September 27th – Volunteer Recruitment: Communicating your Organization's Volunteer Needs

October 4th – Measuring Volunteer Service Impact and Telling the Story (for fundraising, social media, volunteer recruitment)

October 11th – Evaluating and Improving your Volunteer Intake, Onboarding, and Training Procedures

October 18th – Volunteer Recruitment: Reaching the Right Volunteers and Matching their Interests with the Organization's Needs
October 25th – 8:30-9:30am Peer Networking Session
Volunteer Center member rate is $150 for all 5 sessions
Non-member rate is $175 for all 5 sessions
Registration for 2023 is now closed. Email Meghan to be added to the list for participation next year.
What the VETP graduates are saying...
"Whether you are a first time volunteer coordinator or one with years of experience the VETP helps you evaluate and improve the direction of your volunteer program with help from peers and professionals."
"As a newly assigned volunteer coordinator, this training has been really eye opening for me. Each session provides great insight from experts in the field. I have gained a lot of new ideas to take back to my organization which will help me to bring our volunteer program to the next level. I love having the opportunity to collaborate with nonprofits doing amazing volunteer work in the Lehigh Valley!"
"I really appreciate having the opportunity to receive training and frank discussions with others in my position. Being able to receive direct feedback and practical solutions to issues that I am facing has allowed me to be more efficient at work. If this is offered again, I will be signing up."
Thank you to our sponsor!