United Way Day of Caring is the largest, single-day volunteer effort in our community! In 2019, 800+ volunteers donated 5,000 hours of their time, rolled up their sleeves to landscape, paint, reorganize, harvest, build & refurbish at 60 different projects. Others visited, played games and took meals to the home bound. This year the United Way will be doing a Virtual Week of Action. Multiple ways to volunteer virtually will be available throughout the week.
Individuals and Groups Looking to Volunteer on the Day of Caring:
Help provide non-profit agencies with the supplies they need to deliver their programs and services. Click on the buttons below to see those needs and details about how you can donate the supplies!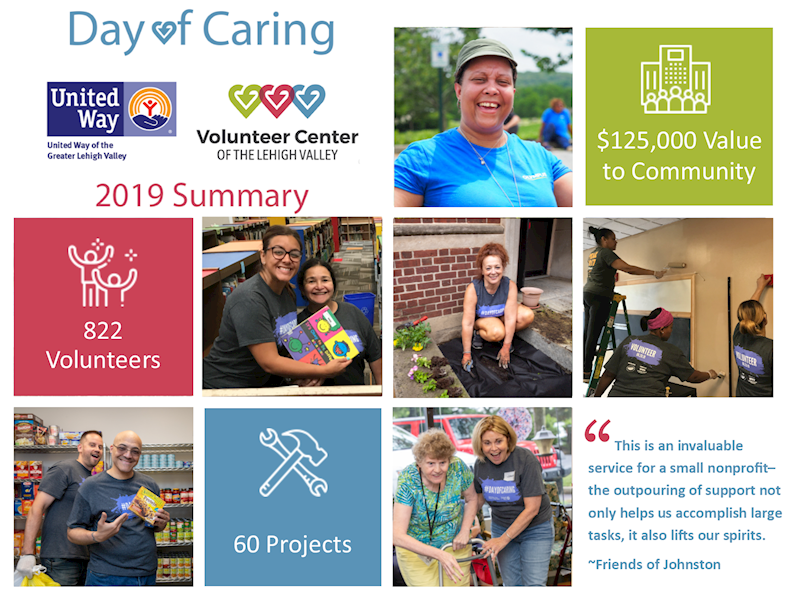 Nonprofit Testimonials:
"All of the volunteers were so passionate and committed. I think it was a very emotional and impactful day for all involved." ~Anonymous
"2019 DoC is really a great opportunity to meet new volunteers. Our staff and residents truly enjoy the opportunity to do something over the top. Which we couldn't do without the extra help. " ~Cedarbrook Senior Care & Rehab
"It was another great Day of Caring! I know it's a huge effort and we appreciate everything you do to bring nonprofits and companies together- thanks!" ~6th Street Shelter
"We would love to see more opportunities like this one. We really enjoyed volunteering and participating in something bigger than us." ~ Kistler O'Brien Fire Protection
Thank you to the 2020 United Way Day of Caring Sponsors

Gold Sponsor:
In-kind Contributors: