United Way Day of Caring is the largest, single-day volunteer effort in our community! In 2019, 800+ volunteers donated 5,000 hours of their time, rolled up their sleeves to landscape, paint, reorganize, harvest, build & refurbish at 60 different projects. Others visited, played games and took meals to the home bound.
Instructions for Agencies to Post Projects:
Log-in to your Partner Portal Account by clicking on the red

LOG IN

button in the upper right hand corner of this page. If you do not already have a Partner Portal Account, click here to register for a free account.
Create a Time and Date Specific Opportunity for September 16th with the registration type as "sign up." Click here for instructions on how to do this.
Each project that is registered will be reviewed and connected to the Day of Caring event by the Volunteer Center.
Register your project(s) on our site before Friday, July 31, 2020.
Project Considerations
Indoor and/or outdoor projects can be included. If you have an outdoor project we recommend including an indoor option in case of rain.
Projects can be between 4-8 hours
Need to list the maximum number of volunteers needed - groups of all sizes will be volunteering
Need to know if all materials will be provided (if not- what is needed?)
Volunteers like to work with the community you serve -

Interactions with children, adults, seniors, pets etc.
Consider volunteer activities like sports, healthy eating, ice cream socials, photo booths
Skilled volunteering - i.e. training/ teaching can be an option
Individuals and Groups Looking to Volunteer on the Day of Caring:
Once projects are posted, they will appear on our volunteer calendar and will be linked here. Check back soon!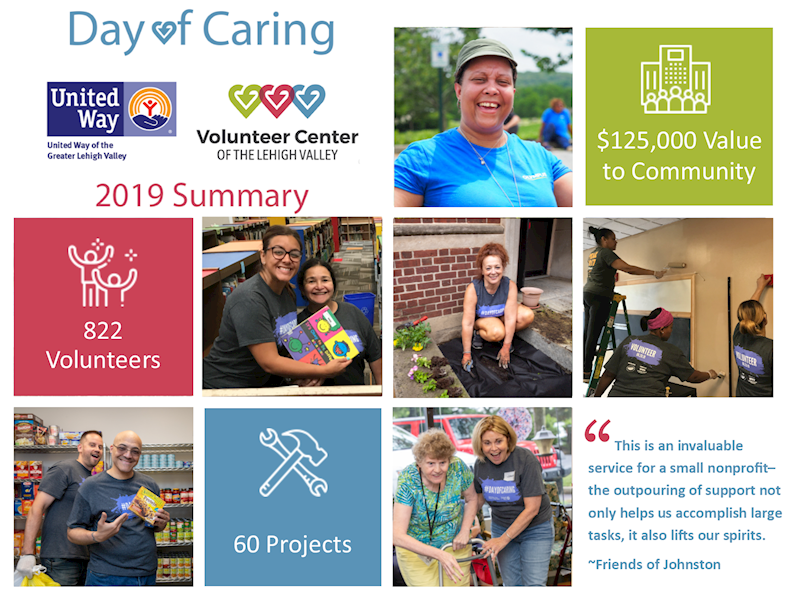 Nonprofit Testimonials:
"All of the volunteers were so passionate and committed. I think it was a very emotional and impactful day for all involved." ~Anonymous
"2019 DoC is really a great opportunity to meet new volunteers. Our staff and residents truly enjoy the opportunity to do something over the top. Which we couldn't do without the extra help. " ~Cedarbrook Senior Care & Rehab
"It was another great Day of Caring! I know it's a huge effort and we appreciate everything you do to bring nonprofits and companies together- thanks!" ~6th Street Shelter
"We would love to see more opportunities like this one. We really enjoyed volunteering and participating in something bigger than us." ~ Kistler O'Brien Fire Protection
Thank you to the 2020 United Way Day of Caring Sponsors

Gold Sponsor:
In-kind Contributors: