About Us
The Volunteer Center has been serving the Lehigh Valley and surrounding communities for over 35 years as a capacity builder, resource provider and connector for the nonprofit and business communities as well as individuals who want to give back.
Our core focus includes volunteer coordinating for individuals, teams and businesses. We provide extensive training programs that include board service, volunteer coordination training and nonprofit skill building. Annually we connect over 25,000 volunteers working with 450+ nonprofit organizations and partnering with over 100 businesses annually. We coordinate volunteer service days for United Way of the Greater Lehigh Valley with the Day of Caring and Mini Days of Caring; as well as National Service Days- Martin Luther King, Jr., 9/11 Day of Service, Family Volunteer Day, and Global Youth Service Day projects which engage all ages in our community through volunteering.
Our programs also include our annual Volunteer Challenge which is a collaboration between businesses and nonprofits for completion of sustainable projects and host recognition events in both the spring and fall to celebrate the many achievments and impact that volunteers have made.
Our History
The Volunteer Center of the Lehigh Valley (VCLV) grew out of a 1982 community initiative lead by local businesses and agencies and, in 1985, incorporated as an independent nonprofit organization. Originally charged with recruiting, screening and placing volunteers in local nonprofit organizations, over the years our mission has evolved as a capacity builder to meet the drastically changing needs of the Lehigh Valley nonprofit organizations and the corporate focus on community support and engagement. Through our programs, we offer opportunities to individuals, companies and nonprofit agencies all with the collective goal to create educational and human service partnerships that will enhance and enrich the Lehigh Valley by developing leaders, providing resources and tools to nonprofits.
The Volunteer Center is affiliated nationally with The Points of Light Institute, HandsOn Network, and the Corporation for National & Community Service, and is a member of the following: United Way of the Greater Lehigh Valley; and Society of Volunteer Administrators of the Lehigh Valley.
Annual Gratitude Reports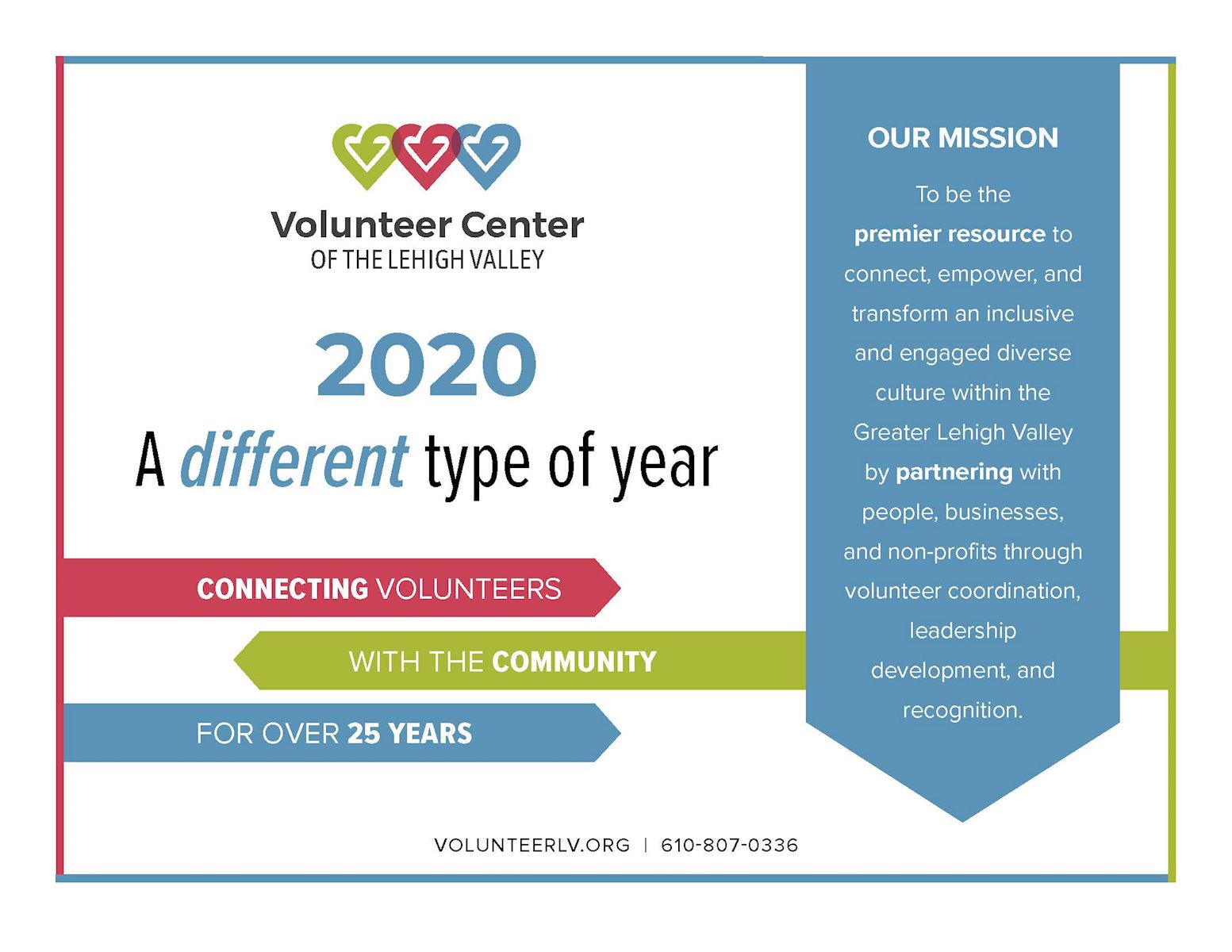 The Volunteer Center of the Lehigh Valley is an affiliate of the Points of Light Global Network, which includes volunteer-mobilizing organizations located in nearly 40 countries around the world. To learn more about the Points of Light Global Network, visit www.pointsoflight.org/global-network.