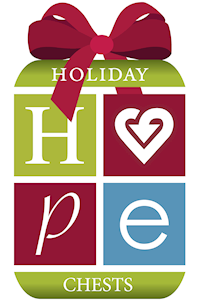 Holiday Hope Chests 2020
We are gearing up for the 2020 Holiday Hope Chest Season! Help us bring extra smiles to children this holiday season. Be sure to put your email into the form below to receive all of our updates.
How does it work?
We work with local youth serving nonprofit organizations to understand how many boxes are needed. See the list of nonprofits who have requested Holiday Hope Chests this year.
You pledge how many shoeboxes you will collect, wrap, and fill with toys and gifts. You can participate as an individual, a family, or coordinate with your church, club, or co-workers.Click here to fill out your pledge form or use the button below. After you fill out your pledge form, you receive your tags and other important instructions.

You, or a representative of your group, will drop off all wrapped and filled shoeboxes Tuesday, December 1st through Saturday December 5th- at 85 South Commerce Way in Bethlehem. The nonprofits pick them up and distribute them to the children they serve.


We also welcome financial donations for this year's program. Click on the button below and select "Holiday Hope Chests" from the "Use this donation for" drop down to do that.


2019
Recap
THANK YOU!!!
40 Nonprofit Organizations - Over 9,000 children
What do you get when you have 300+ donors; 75 volunteers; in-kind supporters for space, transportation, boxes & tables; topped off with an awesome staff that stops at nothing EQUALS - 40 nonprofit agencies here in our community sharing happiness in a shoebox with over 9,000 children this year.
From 1 box at a time to 855 boxes by the Northampton County Bar Association Young Lawyers, donors came and dropped off their boxes. Our team and amazing volunteers mobilized to wrap, shop, sort and fill orders. A special shout out to Art of Dance, Crayola, Enterprise, Give Back Lehigh Valley, Josh Early Candies, LG Photography, RCN, St. Thomas Moore and everyone of our donors.
We are so overwhelmed and joyous to be able to share that every agency was able to receive their boxes and donations of items to celebrate the holidays with their children. The nonprofit organizations came fully prepared to pick up their orders and volunteers mobilized to help lift and load the boxes. These nonprofits will now have the joy of watching their children & youth celebrate the holidays with the happiness that comes from these shoeboxes.
We are so blessed to have the great fortune to run this program each year and it continues to grow. Thank you for helping us provide HAPPINESS IN A SHOE BOX through our 2019 Holiday Hope Chests program!

Holiday Hope Chests in the News!
WFMZ Interview with Karen Smith and Jody King
See the difference your generosity makes!
Follow The Box from ASR Media Productions on Vimeo.
For more information about this program, please contact the Volunteer Center at 610-807-0336.
Thank you to our Sponsors: