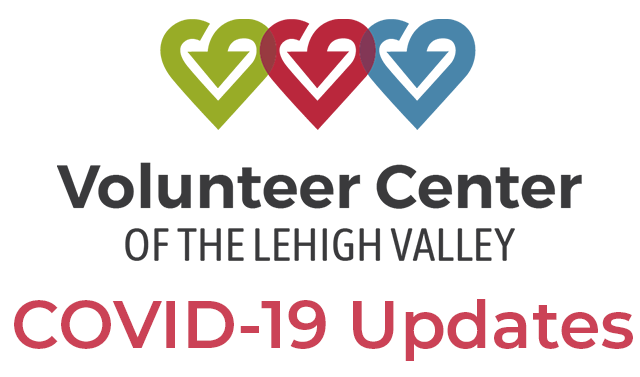 Welcome to the Volunteer Center's COVID-19 Resource and Needs page. Our community is coming together in such a great way during this unprecedented time and is looking to mobilize resources including volunteers and skilled services as well as supplies needed for the many organizations remaining operational during this time.
The links below will direct you to finding volunteer opportunities; a listing of direct needs for local nonprofits and helpful links for resources for COVID-19.
If you have any questions or need any assistance, please contact the Volunteer Center at 610-807-0336 or by emailing vc@volunteerlv.org.
If you are a nonprofit with specific supply needs, please click here to post your specific needs.
How you can help:

Resources:

The COVID-19 situation is changing rapidly and the Volunteer Center of the Lehigh Valley is monitoring it closely. For the latest updates please visit: https://www.cdc.gov/coronavirus/2019-ncov/index.html and https://www.pa.gov/guides/responding-to-covid-19/ for State updates.
We encourage you to take all necessary precautions to stay healthy and avoid spreading germs to others. As always, follow these steps to stay healthy.